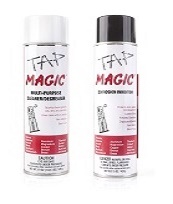 The Steco Corporation announces two new products to complement their professional line of cutting fluids, Tap Magic Multi-Purpose Cleaner/Degreaser and Tap Magic Corrosion Inhibitor, available immediately! These products are complimentary to cutting fluids and other lubricants, fully completing the professional machinist's or fabricator's arsenal of fluids for turning out top quality work.  
After drilling, tapping, sawing…with Tap Magic Cutting Fluids, the 2nd step of any metal working process is to clean parts, tooling, and equipment with Tap Magic Multi-purpose Cleaner/Degreaser. This high performing cleaner can be sprayed onto metal surfaces and then wiped clean with a towel or shop rag to remove cutting fluids, oils, greases, and other debris that accumulates during the machining process.
Once the parts and equipment are cleaned, follow up by applying a light coat of Tap Magic Corrosion Inhibitor to protect your metal from rust and other corrosion. This 3rd step will please your customers and save you money by protecting parts, tooling, and equipment. It can also be used indoors or out to protect almost any metal object such as farm equipment, yard implements, and other metal tools or 'toys'.  Ask your distributor for a can of each today!
Back to News